Hello Sir! Do you have a minute to talk about your bushcraft rucksack needs?
It's pretty much impossible to recommend a backpack to someone else because there are so many different variables that have to be taken into account. The backpack manufacturing companies like this! This means that they can make endless variations of their backpacks just so that you will be able to carry the backpack that is perfect for you!
Most people go one of two ways when choosing a backpack; either they just pick the first best one and run with it regardless of fit, looks, features, etc. Then there are those who really look at every detail to really get the most out of their new backpack. Everything from weight, size, the ergonomics of the carrying straps, compartment for a water bladder, top cap or not, with or without rain cover, molle or not, side pockets or one large bag. Yes, there are many different criteria and options when choosing your backpack, and usually you don't really know what you want until a while after you've tried it. That's how I scraped together my backpack collection myself!
Now I have finally landed on a concept that works very well for me and my excursions. I use my stuff every week, often several times a week for various things, forest trips, etc. and feel that most of it works pretty much as I intended it to! The items are durable, adjustable and just the right size.
Swedish Army's Stridssäck 2000 (and other surplus options)
When I went to get one of my first bushcraft backpacks, I read many comments from people who thought that they should choose specific backpacks because that particular one was the ultimate variant and they had certainly never needed any other than that particular one backpack. It's kind of like when people recommend the Swedish Army's 30 liter backpack for all your adventures. That backpack really is the ultimate backpack! For Swedish soldiers, from the Armed Forces' perspective of mass production, budget, durability and what the minimum possible a Swedish soldier needs in the way of a backpack!
However, the Stridsäck 2000 (and similar surplus backpacks) are perfect for beginners because they are so stripped down to its bare essentials and really have no ambition to entice you to buy with a lot of flashy details, functions and hidden pockets. It's got a single large roomy compartment that is accessed from above, so called top loading and two uncomfortable shoulder straps. So you really understand the importance of and learn to recognize proper shoulder straps when you try them on! It also have a flimsy hip belt that either cuts deep into your abdomen or directly works against your wearing the backpack in a sensible way! Lovely! Highly recommended rucksack!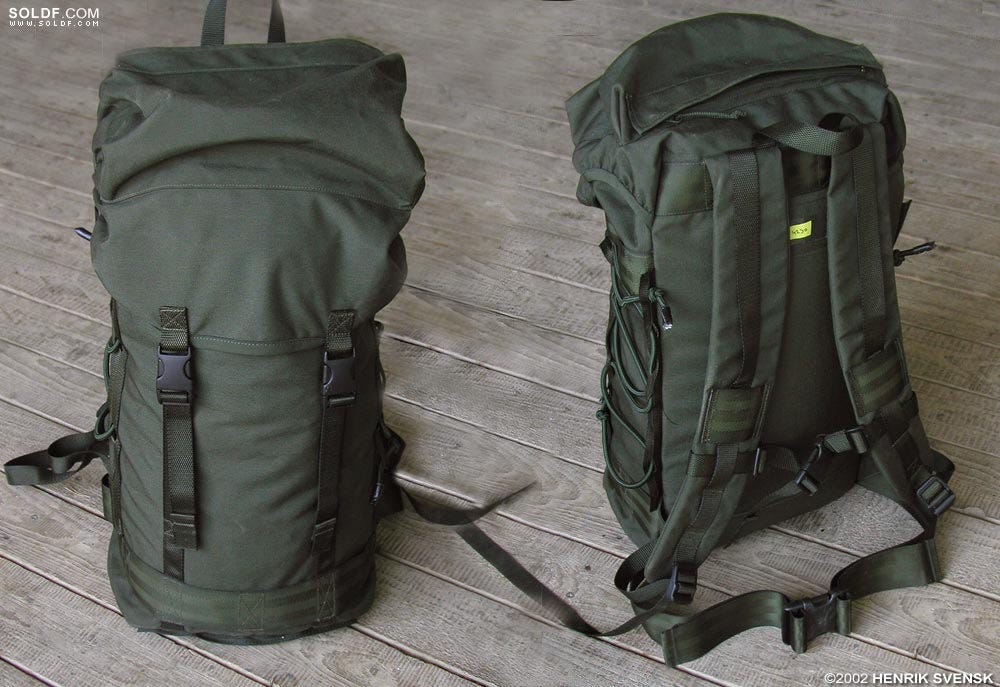 But why recommend something that is obviously not good?
Most people who are looking to get a backpack for bushcraft can expect to pay anywhere from SEK 1,000 (ca 100 USD) and up for a new backpack. More likely around SEK 2,000 (ca 200 USD). A backpack from military surplus, on the other hand, you can get a tenth of that price. A used rucksack with many miles ahead goes for SEK 300 and 500 (ca 30 to 50 USD). If you are not satisfied with your choice, you can often sell it for exactly the same amount or more. Meanwhile a nice new outdoor backpack quickly loses market value.
Made for heavy use
The military backpacks are also made to be used. They are often easily repaired if, in the unlikely event, they happen to break. The materials often consists of very durable materials that resist water, wind, fire and other elements well. They are made to be easy to maintain. If there's one thing the military likes, it's making sure all the stuff first becomes unrecognizable from mud and dirt. Then they make sure the soldiers polish it to a high shine afterwards. It is (probably) one of the greatest pleasures of officers!
Because they are so simple in their construction, you can quite easily modify your stuff. For example by attaching molle to the sides if you want to be able to attach more pockets. I know some people who bought the Swedish Army's old backpack LK35 and attached side pockets.
To say that that backpack only swallows 35 liters has to be one of the biggest understatements in history. It is absolutely huge! Throw on a pair of side pockets and you've got a backpack you can rely on for pretty much anything. It also has a steel frame, which makes it very comfortable to carry no matter how you pack it!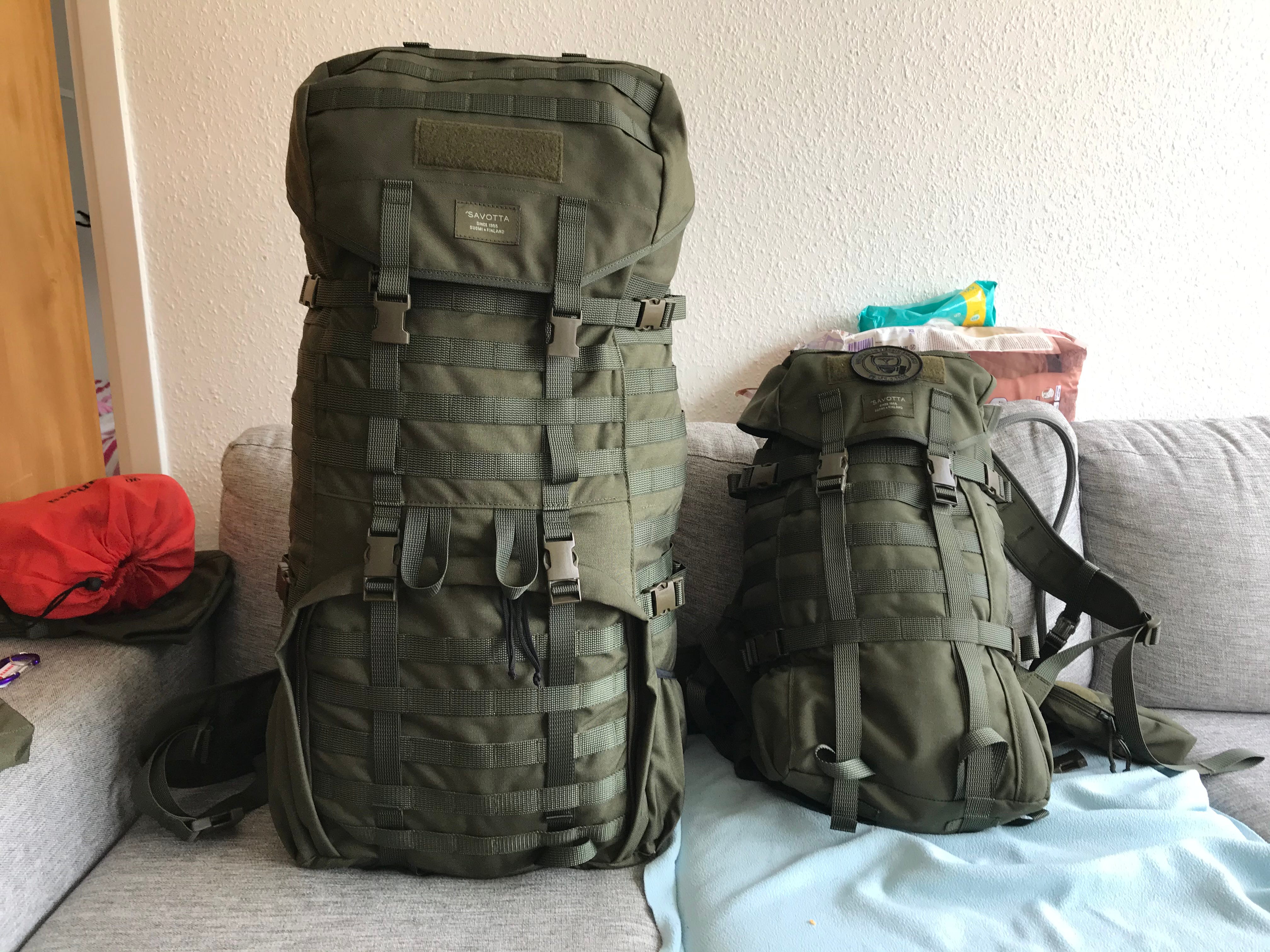 More modern options
I wrote at the beginning that I am very happy with my current setup. I'll try to explain why and how I arrived at that conclusion! A couple of years ago I sold off almost all of my outdoor gear, except what I actually used. I then bought some new stuff that met the criterias I set and solved the problems I had before. In the way of backpacks, it was Savotta's Jääkäri series in the sizes Small (approx. 20l), Medium (approx. 35l) and X-large (approx. 75l), as well as side pockets (approx. 10l each) that could be fitted if necessary. Pretty much all needs were covered without having to compromise on quality, function and compatibility.
Before this, I used several different backpacks, depending on what was to be packed that particular day. It was of course extremely frustrating not being able to have a ready-made solution that was ready and just thrown into the car when it was time for a day in the woods.
Jääkäri M
The medium version of these is the one that has been used the most for shorter trips. It swallows what you need for the day regardless of whether you have to carry things for yourself only, or the rest of the family as well. If you need extra space, it is easy to attach certain things to the outside of the backpack and install side pockets. You quickly reach around 60 liter packing capacity this way!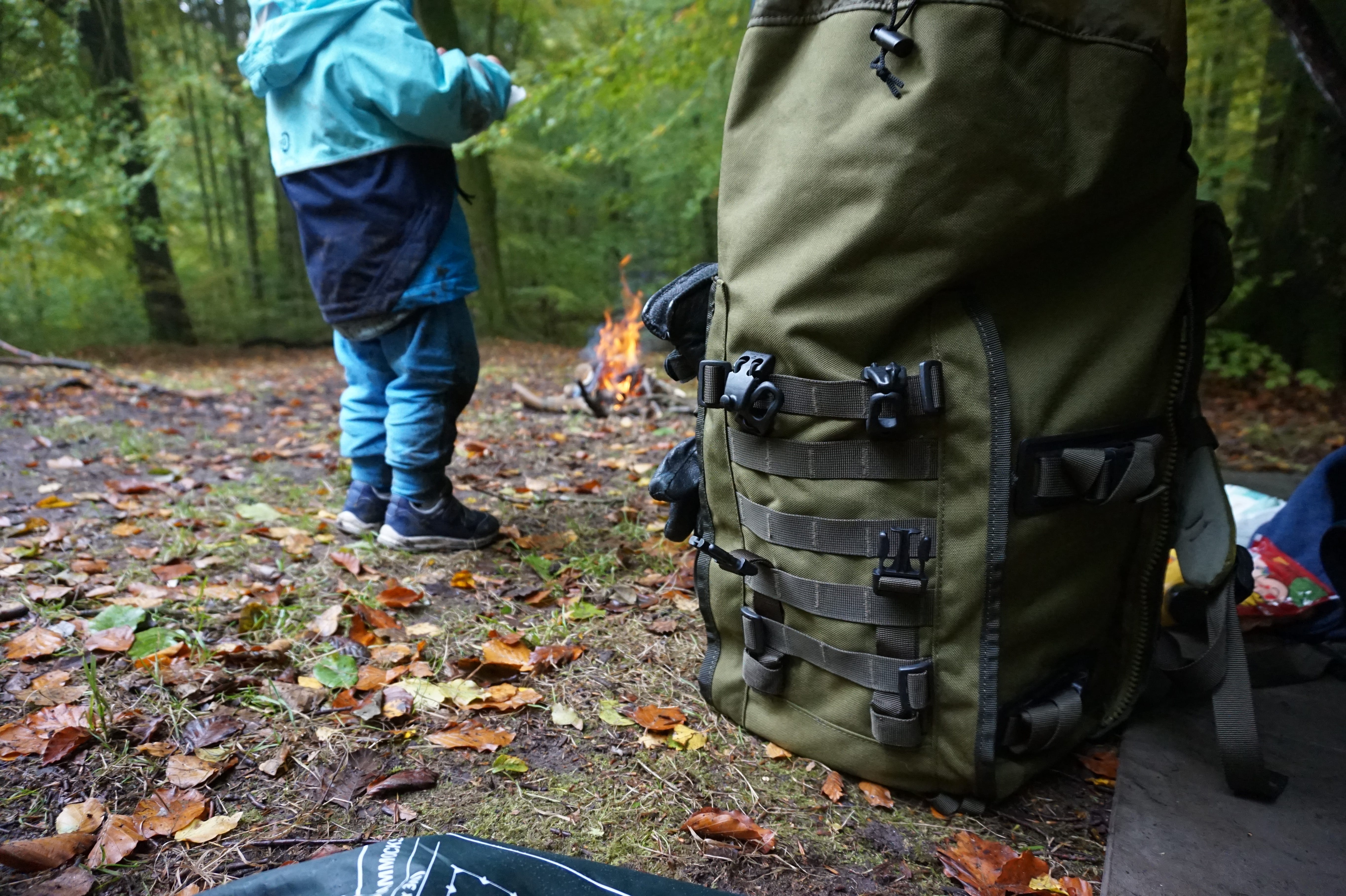 The aesthetics
Last but not least – one of the most important aspects! Whether you are aware of it yourself or not, is the appearance or aesthetics. I'm personally a big fan of certain Instagram accounts with more of a classic cowboy feel. Regardless of whether it is intended or not (it's obviously very elaborate on most accounts), aesthetics have played a big role in deciding which equipment and backpack are "best" for these people. It's not like it just happened to be things that fit incredibly well together aesthetically.
The point that some people forget to be aware of is that you know roughly what style you want to achieve and should factor that into your gear selection right from the start. It's very easy to find faults with an otherwise perfect backpack if it's bright red and that's your least favourite color. Personally, I don't like all the colorful options that modern outdoor clothing and backpacks are made in. I tend to prefer natural colors in the forest: green, brown, etc. That's the main reason I always took the more uncomfortable, and in every way inferior, surplus backpack from the German Wehrmacht instead of a relatively new Osprey.